Back to case studies
---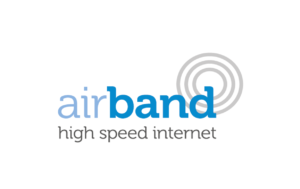 Airband Case study
Network Design, Layer 2 Multicast and Map T Implementation
We've worked closely with Charl Tintinger, the Chief Technology Officer (CTO) at Airband, both in his current role and his previous position at a leading fibre-to-the-premises (FTTP) network. We have helped him create a secure, reliable and scalable network that delivers ultrafast connectivity to hard-to-reach rural areas.
Challenge: Charl first got in touch looking for help creating a proof-of-concept network that he could take to investors and that would get the support of vendors.
Solution: The existing network had issues with stability, so we sat down with Charl and the head of networks to determine what they needed and how we could get them there. We looked at various models that would provide the stability and scalability before carrying out a complete network redesign.
"I worked with Terry previously and knew about his knowledge of network security, risk and the service provider ecosystem. I knew Enable were a team that would add tremendous value and not just agree with us and sell us what we think we need but really challenge us on the approach we're taking."
Charl Tintinger, Airband
Challenge: The network was unable to support layer 2 multicast, which delivers one-to-many transmission while keeping the network load constant and the performance efficient.
Solution: At the time, the features we needed to implement layer 2 multicast efficiently onto the network just didn't exist, so we worked closely with Cisco's business unit to produce a new feature that was written into code. That new feature was incorporated into the software that ran on the network's platform. The feature we created specifically for Charl – MPLS Point to Multipoint Traffic Engineering Support for Static Pseudowires – is now universally available on Cisco hardware.
"Working with Enable has always been about getting the work done to the highest possible standard. I don't see them as a supplier anymore, they're a trusted partner. They tell us what we don't know and create, recommend and implement the infrastructure that can improve us."  
Charl, Airband
Challenge: Airband wanted a more elegant and scalable IP hierarchy solution to help them scale the network while keeping costs down.
Solution: With some of the world's biggest networks running MAP-T, we knew that this technology was the most scalable and cost-effective way to create an elegant IP address hierarchy. We did some high-level design work and acquired the hardware Airband needed for implementation. We also worked with Airband to ensure the routers it sends to its customers are Map-T enabled and even trained some Airband staff to get them up to speed.
"We have a roadmap about what we need to do to the network over the next 18 to 24 months and Enable are going to be supporting us every step of the way. Not only do we trust them to get the network as good as we need it to be, but they also have great relationships with the vendors and can get a good deal on the hardware." 
Charl, Airband
THE EXPERTISE TO KEEP YOU MOVING
Whether you want to talk about our connected approach or a specific part of our service, our service provider network experts are ready to help. Take the first step in a great partnership and get in touch with our team.